Differential Pressure Control Valve Working Principle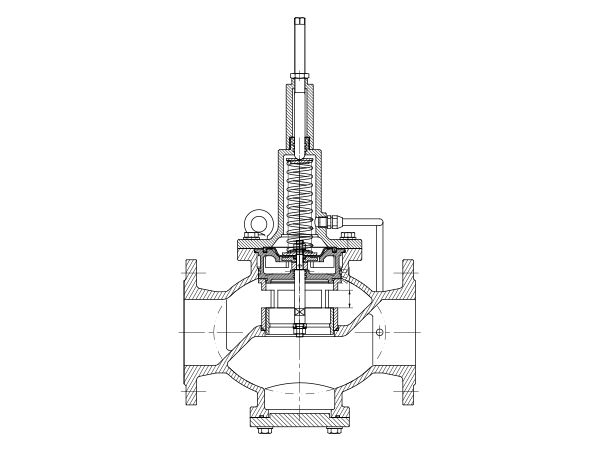 P1 is the pressure of water supply, P2 is the pressure of backwater in the valve and P3 is the pressure of backwater outside the valve. When P1-P3 increases, the induction diaphragm moves the disc upward, reducing the flow area and increasing P2-P3, thereby maintaining P1-P2 constant, i.e. the pressure difference on the control system remains unchanged. Conversely, if P1-P3 decreases, the disc will move down, P2-P3 will decrease, and P1-P2 will remain unchanged. If P1-P3 remains unchanged, and the resistance within the controlled system changes, such as P1-P2 increases, the disc opens slightly, so that P2 returns to its original value, that is, P1-P2 remains unchanged. Therefore, this valve can adjust the pressure changes in the system outside the controlled system.
Differential Pressure Control Valve Installation and Commissioning
Differential pressure control valve is the backwater installation method. The control pipe is connected with the connection of the water supply pipe. External type: connected with the supply pipe at the front end of the controlled system and connected with the preset control interface of the copper guide valve at the end; The pressure difference control valve and balance valve are used together. The balance valve is responsible for flow measurement, shutoff, and connection of the pressure pipe. For specific use, please consult ZECO Valve Group.
Differential Pressure Control Valve Material and Standard
Size Range: 2"~12"
Pressure Rating: 10bar ~ 25bar
Face to Face Dimensions: AMSE B16.10, EN558-1
Flange End Dimension: AMSE B16.1/16.42, AS4087, EN1092-2
Coating: Fusion Bonded Epoxy Coating
Inspection and Test: ISO 5208 / EN 12226-2
Part

Material

Standard

Body

Ductile Iron

EN 1563/DIN 1693

Bonnet

Ductile Iron + C37000

EN 1563/EN12167

Trim

Stainless Steel 431

EN10088-1/ASTM A959

Seat

Stainless Steel 431

EN10088-1/ASTM A959

Diaphragm

EPDM / NBR

ISO 4633

Spring

Stainless Steel 431

EN10088-1/ASTM A959

For the materials options not listed, consult factory.

ZECO manufactures valves in more than 50 different alloys.